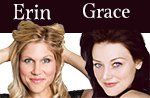 Erin & Grace (Hosts)
Grace Star of documentary, Psychic: A Gift of Grace, Psychic Grace is a spiritual advisor with 12Listen.com that specializes in manifestation, astrology, tarot, mediumship and channeling. Her most prized gift is assisting others to fully realize their highest calling and best lives.
Erin Muir is a psychic advisor and life coach with 12listen.com. She has trained in numerous healing modalities with teachers, shamans and master teachers around the world. She is also an award winning playwright and comedienne, and so brings together her own special brand of coaching and healing through the power of laughter and transformational storytelling.